EQUINE HYDROTHERAPY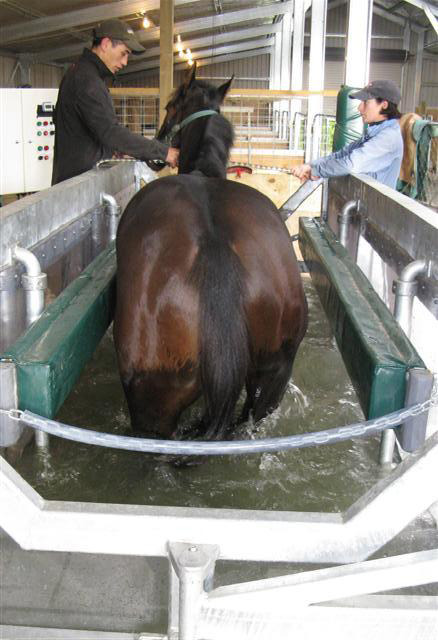 Equine Water Treadmills are a very cost effective method of pretraining the thoroughbred racehorse. Four weeks of training on Bambrys Water Treadmill has been proven to be equivalent to at least 6 weeks of conventional training. This saving owners hundreds of dollars in getting their horses to the race track.
We have also proven that once the racehorse is race fit we can maintain that fitness while the horse is freshening his mind or recovering from a slight injury. This instead of going out for a spell saving the owners hundreds if not thousands of dollars that would be needed to bring a horse back up to race fitness. Human athletes do not go and lay on a couch for 8 weeks when resting between races. They keep ticking over with light exercise.
Long easy walking also fosters a love of exercise and a positive work ethic.
By manipulating the speed of the treadmill belt and the gait of the horse, the horse can be encouraged to take longer slower strides at a walk, therefore stretching muscles and training to brain to remember the modified gait.
RECENT WINNERS PRETRAINED ON THE TREADMILL:
Ormond Road - T Bambry
Lord Turbo - T Bambry
Scapolo - K Myers
Intransigent - K Lawrence
The Lone Ranger - S Lennox
Mr Ink - A Clement
BENEFITS OF THE WATER TREADMILL

Increases the stride and develops muscles used in normal exercise, on the race track, or under saddle
Allows bleeders to heal while still maintaining conditioning.
Reduces recovery time by 50-60%
Improves performance
Accelerates conditioning
Encourages muscle development
Increases cardiovascular fitness
Improves flexibility
Promotes correct posture and a balanced gait
Minimizes performance injuries
Reduces impact on limbs while benefiting soft tissue mobilization
Modulation and reduction of pain
Joint decompression
Reduces friction between articulating joints - Provides hydrostatic pressure to assist blood and reduce swelling

The Francis Finnegan trained 3yr Storm Creek filly pulled off a very gutsy Group 1 Win in the 2009 Levin Classic. EILEEN DUBH was a regular to the Manawatu Equine Water Treadmill for pretraining and also used this facility throughout her race day preparation.
' GET THE GROUP 1 RESULT - Mangatiti Bloodstock are proud to announce their new venture that is currently up and running.Horses are weighed regularly to moniter their progress.

The Water Treadmill will help in the rehabilitation, reconditioning and pre-training of horses from all areas of the equine world. There is only one other of this sort in New Zealand but they are used extensively overseas,
http://www.aftenposten.no/english/sports/article2416609.ece

To date horses raced after a treadmill preparation producing the following winners, for trainers including, T Bambry, F Finnegan, D Howarth, L Latta, M Breslin, J Wheeler, G Cullen & G Lowry, D & C Bothwell, P Campbell, G Lambert, K Myers, S Lennox, A Clement, K Lawrence, consisting of individual winners, some listed below:
Eileen Dubh - G1 LEVIN CLASSIC 2009, Kitty O'Hara, Ricky Bobby, Ben Hogan, City Newton, Three Chimneys, The Foreman, Halls, Lochnaw, Smoking Chimneys, Loose Change, Stand Tall, Just Call Me Bond, Blueberry Hill, Rampant, Our Max, Tip the Wink, Sandra Dee, Jumoke, Hanami, Royal Jazz, Saint Pat, Sonny Wellington, Superturf, Mr ink, Ormond Road, Lord Turbo, Scapolo, The Lone Ranger, Intransigent - Listed 2013 Taumaranui Cup (of note 3 of the first 7 home in this race were all pretrained on the treadmill)
If you are interested in more information please do not hestitate to contact us.