LORD TURBO MAKES WINNING DEBUT
A late naming and nomination of 2yo Lord Turbo resulted to be a wise move when he made his impressive winning debut at Awapuni on the 6th July in a 1200m 2yo Hcp. Sitting at the tail of the field for most of the way he and rider Rosie Myers swept around them on the turn and reeled the field in real style and ran past them easy to take the win. This was the 2yo geldings first start after a 3rd at the trials behind Cauthen, who went on to also win his debut. He is by Perfectly Ready out of Grp 3 placegetter Sitting On A Hill and was bred and is owned in partnership by Tony and Judith and their daughter Chrissy. The Wanganui Guineas will be his first target for the coming season.

CITADELLE CONTINUES ON STABLE'S WINNING ROLL
Bred and owned by Mangatiti Bloodstock, 4 year old mare Citadelle (City on a Hill x Pub Singa) won convincingly at Otaki today over 2100m. This was only her 4th start and the improving track conditions saw Citadelle settle back in the field and loom upto the leaders to take the lead early on the turn for home and she skipped away from them to win easily by 3 3/4 lengths, ridden a treat by Darryl Bradley. Citadelle is a full sister to stakes placed Ormond Road and has a half brother by Fully Fledged in the NZB Ready to Run sales (Lot 276).

DUBAI BELLE FIGHTS HARD FOR GRP 3 WIN (15th August 2012)
Saturday's Marton meeting saw the 2012 running of the Marton Metric Mile and Dubai Belle fought hard to kick home as the convincing winner, a great ride by Robbie Hannam to sit off the pace and kick for home early leaving the others chasing.
Dubai Belle was bred and is owned by Robin Hapi and was foaled down, raised, broken in and pretrained here at Mangatiti Bloodstock. She originally went to Francis Finnegan to be trained where she won three races for him but when he moved to Australia she was placed in the training hands of Tony. She has now won 6 including this Group 3 race, which was Tony's first black type win after having Sitting on a Hill and Ormond Road both black type placegetters.
CONGRATULATIONS TO ROBIN HAPI AND DUBAI BELLE!!! A WELL DESERVED WIN!!
Dubai Belle pictured as a foal a few days old then winning her Group 3!
Dubai Belle is a great advert for our Water Treadmill as she does her majority of work on it, and has only been to the track for a few days pacework and a quiet gallop and the rest of the time does all her work on the water treadmill.
Check out the video below we took of her this morning (Sunday 16th, the day after she won) bucking and racing round the paddock, a very happy horse and obviously thriving in the relaxed atmosphere of Mangatiti Bloodstock, where we cater for your horses individual needs and achieving great results!

DOUBLE OR NOTHING!!
Gold'N'Casino and Dubai Belle's impressive wins on Saturday 7th July at Awapuni, provided the Mangatiti Bloodstock team with much excitment and provided Tony Bambry with his first double, training two winners in a day.

This was Gold'N'Casino's second win from only nine raceday starts when he fought hard to hold out the rest of the 3yo field. This was Dubai Belle's fourth win, but her first under the training of Tony (and at only her 3rd start for us).

ORMOND ROAD GALLANT IN WARSTEP STAKES DEFEAT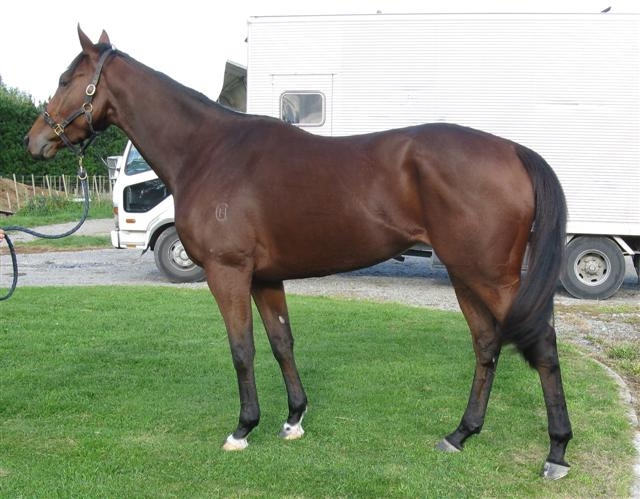 Tony Bambry's filly Ormond Road was very brave in just failing to hold out the Murray and Bjorn Baker filly Fast Love in the recent Warstep Stakes run at Christchurch on April 16th. Ormond Road had to come around runners turning for home and reached the lead just on straightening but could not hold of the challenge of Fast Love going down by a short neck in the final strides. This is a link to the race. http://www.youtube.com/watch?v=d7zdadJNNjM
Third was the well bred So Devine who is a full sister to the good horse Monaco Consul. The time for the race was one and a half seconds quicker than the other to races on the day including the Group 3 Canterbury Gold Cup showing the quality of the first three fillies home.

3 Muscateer's from Karaka 20X 12 Feb 2010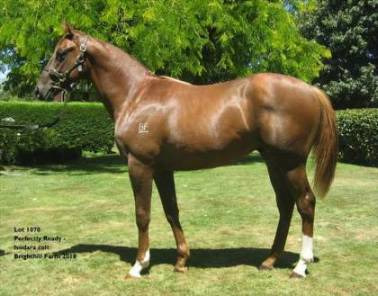 After a very strong start to this years Karaka Premier sale, it continued through to the Select and even Festival sales aswell. Australian buyers were in full force in both Premier and Select and both vendors and buyers seemed happy with the results.

Tony was able to secure 3 very nice geldings, all from the select sale.

Lot 542 - Reset x Millie

Lot 959 - Perfectly Ready x Drama

Lot 1070 - Perfectly Ready x Isodara

Sucessful Ready to Run for 2009 1 Dec 2009
With a pleasing breeze up effort for both of our geldings, the market at this years sale was to determine alot for everyone selling and buying at the 2009 NZB Ready to Run sale.

After alot of inspections, our two boys were as ready as they were ever going to be, and it was upto the buyers.

Lot 212 - High Chaparral x Coochicoochie Coo
This impressive individual proved very popular, as his sire was one that was very sought after. He was sold to the Moroney camp for $170'000 and will do all his racing in Australia.

Lot 229 - One Cool Cat x Desert Music
Another impressive individual that showed a bit of speed in his ealry work was knocked down to Seoul Racehorse Owners Association (Korea)for $22'500

TREADMILL GETS GROUP 1 RESULT 30 Nov 2009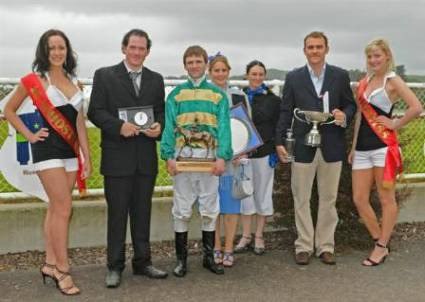 Regular user of the Manawatu Water Treadmill EILEEN DUBH pulled off a very gutsy win in the Group 1 Levin Classic (27th November 2009).
The Francis Finnegan trained Storm Creek filly returned to racing with a bang after being upset in the gates in the Thousand Guineas two weeks prior and finishing behind midfield. Francis utilised the Water Treadmill facilities in Eileen's recovery from the trip south, in her lead up to the Levin Classic in conjunction with her normal raceday preparation.

Eileen also pretrains on the Manawatu Water Treamill aswell as being a frequent user during her race day prep.

WELL DONE TEAM EILEEN!!!

News Categories